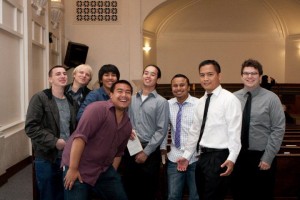 In my previous post I told the story of changes that took place at Long Beach Friends Church.  I wrote that I thought this was a church that responded faithfully to God's direction.  The key here, I think, is what it means to respond faithfully.  I'm not deeply knowledgeable about this congregation, but I would draw the following conclusions from what I observe:
1) Prayer.  One of the most important things prayer does is change us.  It looks to me like the prayer meeting in 1979 helped make the congregation more sensitive, willing and aware to respond when an opportunity landed on their doorstep.  Without prayer, we are often dull and insensitive to what God may be doing around us.
2) The local/global nexus.  Instead of thinking the grass might be greener in another neighborhood, the church became increasingly willing to respond to the people in their own neighborhood.  But that local response was also possible because the congregation believed that the Christian faith had a global dimension to it.  Some Americans and some American Christians aren't quite so willing to welcome and interact with immigrants, who may not seem like they are one of "us."
3) Shifting identity.  Long Beach Friends has now been in existence for more than a century.  It is still a Friends congregation, with the same core Christian faith it held a century ago.  However, its ethnic and racial identity is quite different.  Its ministries are multiethnic.  Its elders are multiethnic.  It has adjusted its worship, with services in different languages but also a combined ethnic worship service.  And I'm sure that other adjustments have had to be made as the second generation of immigrant children has grown up in American culture.  In shifting ethnic or cultural situations, then, faithfulness means that a body will need to be willing to incorporate new leadership into the institution.  A lot of conversations and a lot of listening will have to take place.
4) Unexpected Developments.  How many members of the Long Beach Friends Church in 1952 could have predicted what their church looks like today?   There is a wider message here for the church in America.  How many American Christians in 1952 could have predicted what the worldwide church looks like today?  White Americans (or even white Americans and Europeans) are now a definite minority in the worldwide church.  Among other things, that means that those of us from the white American demographic may not always get to set the terms for the church and its ministry.  If we insist on setting the terms…..well, then what?  On the other hand, if we listen, come alongside others, listen, and adjust…well, then what?